Experience with a Curly hairdresser
My experience with a Curl Hairdresser ... (Sept. 2018)
The curly hairdresser, yes, I had to go there. As almost everyone thinks "that will work wonders", so I thought.
First of all trying to make an appointment, that was definitely not smooth sailing .. via the website, via messenger, nothing, totally no response. Normally I had already dropped out, but I was too curious. So I persisted, if you do not want to pity, but I want!
Out of frustration but posted a message on FB, and yes the response finally came.
Appointment was made.
I had to come with washed hair and not styled. Yes, I also understand that before and after photos are so different from each other.
First in the photo, nice. see left photo. Reported that I was already working on the CG method and did not need protein. Then she cut me, really a lot different than at a barber's shop, Pluk for pluk. Then into the sink and asked what she used but it was not entirely clear to me. Had to wash my hair with cold water, she did it with lukewarm water.
Then the styling process started ... she showed how she did it, put a little bit of gel in your palms and then apply pluck for pluck. She also turned the picking, what a work. I really wasn't going to do that at home even though she reported that it is very important how you apply it to your hair, that would produce the best results.
She put the Aunt Jackie's Don't Shrink Gel in my hair ... I had never heard of it, but I thought it would be fine.
The diffuser was then used and the end result was there, see below before and after photo. That was just a difference .. happy :)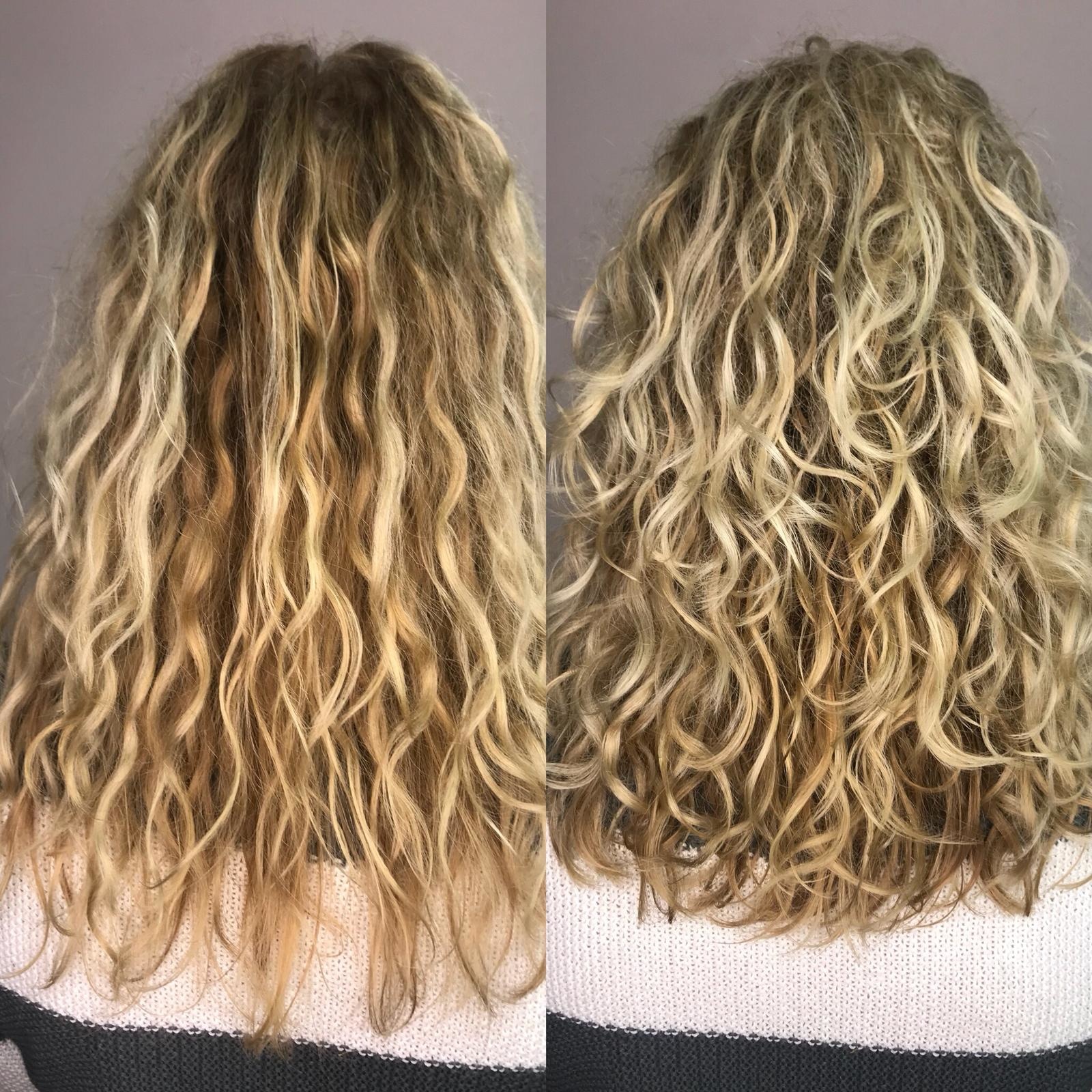 But in no time I had a head full of fluff and no more curl.
See the photo below.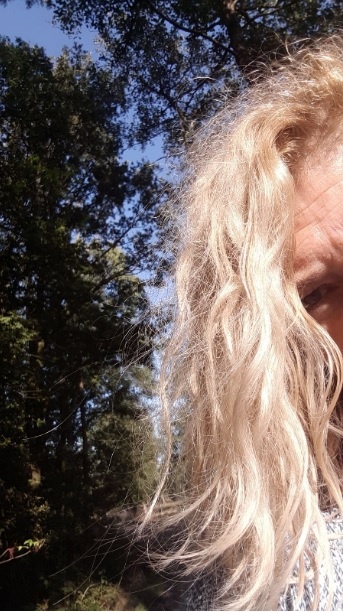 Immediately searched for the ingredients of the gel, and yes, it contained protein.
Pffff well was clear again.
I told the curly hairdresser what the result was now and that this was due to the gel because it contained protein. I think I clearly said that I shouldn't have protein in my hair. In any case, not something that remained in it.
Her response was even better
"Oh too bad, I thought there was no protein in it, but yes you can also be sensitive to everything ............" :( :( :(
Conclusion. I'll never go there again. Report everywhere that she understands the CG Method, well clearly not. If you don't even know what products you put into someone's hair. And then also give such a reaction ....
Hope she has become a little wiser now.
And of course, not every curler will be like that, I don't assume. Because there are indeed positive experiences with curly hairdressers, but still wanted to share my experience with you.
Don't let that stop you, look for reviews of the curly hairdresser where you want to go, and you'll get a better picture of what you can expect. Above all, I think, if you call yourself a curler, be aware of the ins and outs of the CG method.
Only then are you a real curler.
***********************************************************************************************************************************************
Curly hairdressing experience, part 2 (November 2019)
O
After a training I came across the owner of ControlledChaos (now Curls Control). She told what she did; they train hairdressers to cut and treat curls with the CC1 method. They also have their own product line which unfortunately is not CG, and they cut private individuals in their beautiful salon in Velp.
I told my 1st traumatic experience and let myself be persuaded to give it a second chance. One Saturday I got in the car and drove to Velp.
I had my hair dyed two days before, grown gray hair and the rest of the hair dyed darker, and then did nothing about it, and so I arrived in Velp.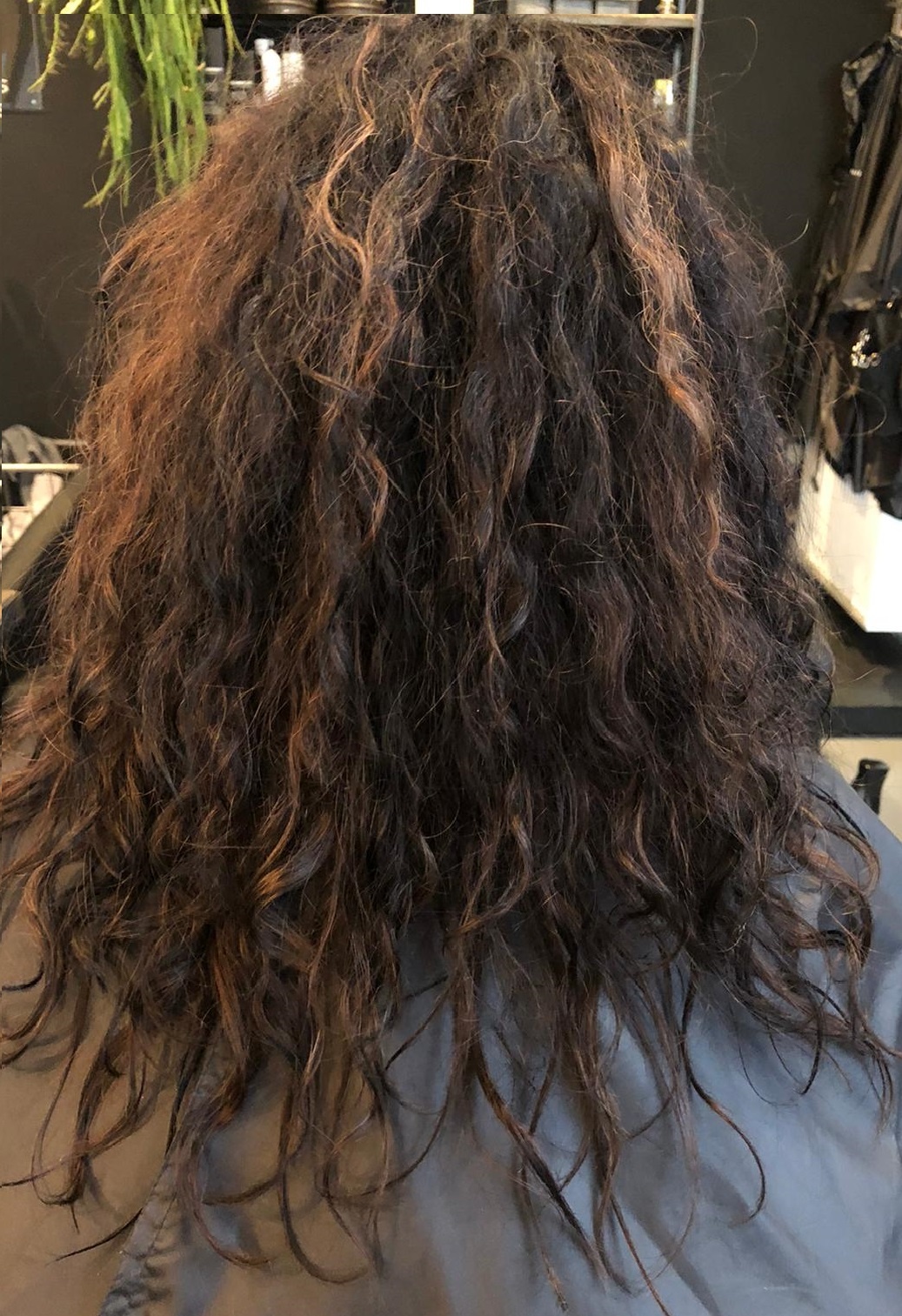 The CC1 method
What is their technique?
Through a specific department and because they cut vertically instead of horizontally, they immediately create a nice volume and air in your curls so that your curls can dance and move freely again.
How did the process go?
They arrive with a questionnaire, because they want to learn to understand your curls, where they are asked, among other things:
What do your curls need in terms of care
Which products do you use now?
How do you wear your curls?
What do you encounter?
Do you exercise a lot so that you can wear your hair tight (due to short upper length)
What do you expect from your curls?
Then 10 to 15 strands of hair are analyzed, how it curls, where it curls. They do this by spraying the tuft of hair wet, water mixed with a little moisturizer.
Then you will be discussed what kind of model you would like, how much you could / should do.
They cut the desired length dry so that it never becomes too short.
In the sink I was treated with a sulfate-free shampoo, they did this twice to clean it properly. With a scalp scrub, the last remains of build-up and dirt were removed.
They started to cut with a moisture in my hair, after they had combed through my hair well .. And yes, the hair was really cut, long and carefully. Quite different from taking a tuft, cutting a piece off and done. A model was cut with care here.
The moisture was washed out again in the sink. Then I had to bend her with wet hair and the products were shrunken in my hair. They were busy with that for at least 5 minutes, so happened very carefully.
After this I was allowed to relax, I was lying horizontally, so they blow-dried my curls completely dry.
Finally I was allowed to see the result, wow wow wow that was a change :).
After my experience of the first time that I went out of the salon with curls and had a cup full of straw within an hour, I naturally had to look at this too.
I got into my car and an hour and a half later at home I was curious, and yes it was still completely ok!
The next day too, and the day after that too .. I just sprayed it a little wet and added a little CG gel. The next day I switched to CG, Clarifying Shampoo, Mask, Gel and everything was great. The model is super, curls are indeed airy and resilient.
Although they do not work with CG products, who knows in the future, I can at least recommend cutting and handling. Price is € 65.00 for short / shoulder length hair how they do it is a mystery to me because they are really 2 hours busy with you. They are on an industrial estate, free parking and plenty of parking.
ControlledChaos is changed in Curls Control.