Add your review
Curly Hair Protein, Protein Drops, 50 ml
Curly Hair Protein, Protein Drops, 50 ml
Earn
x
points for buying this product!
Description
50 ml Protein Drops, packed in a beautiful tube.
This bottle contains approximately 1000 drops, you could use this for a year, as long as the shelf life, 1 year, after opening.
The bottle has a handy pipette so you can easily count the number of drops and add it to your existing products.
You save money and bad buys because you can test with these protein drops first, and use up / use your current products with the help of these drops.
Always wanted to try that protein-free styling gel, cream or leave-in, and never bought it because protein makes your curls really happy? Yess you can buy them now, add the drops to the protein-free product!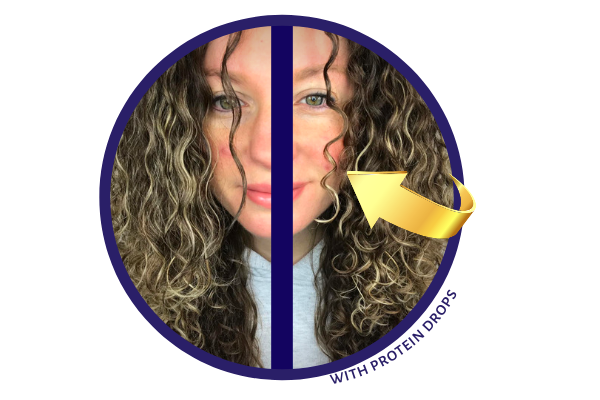 How to use:
Shake before use!
The number of drops you can add to your product depends on the following points:
length of your curls
thickness of your hair
porosity / elasticity of your curls
in which product you want to add it
Low porosity and / or low elasticity, does not require that much protein
High porosity and / or high elasticity, requires a fair amount of protein
Medium porosity and / or medium elasticity, needs medium protein.
We recommend adding at least 10 drops per side/section to your product (s), use more drops if you have longer and thicker hair.
If your hair feels stiff / rough after applying the drops, you have used too much or your hair does not accept the protein at the moment.
Mask, mix at least 15 drops with an amount of mask, depending on the length of your hair and amount of product.
You can also add the drops with a refresh, if you experience sagging curls after a few days and does it look dry? Then spray your hair damp or wet, take a little gel or cream in your palm and add a few protein drops, rub your hands well together to mix well. Then apply to your hair using praying hands and scrunch. If you do not want to add a product to your hair, you can also simply put a quantity of drops on your hands and apply to damp hair to make your curls shine again and to restore bounce.
To test with these protein drops, we recommend that you do the following first:
Wash your hair with protein-free products.
You use protein-free products for your styling.
Add protein drops to your latest styling product, eg gel or cream.
Put your styling product without the drops in one side of your hair, and mix the drops with the same styling product on the other side of your hair.
This allows you to compare what these drops mean for your curls.
When your curls are completely dry you should see / feel a difference. This may be that the curl is more defined, see the photo below, then your curls will like it very much.
If you don't see any difference, you may have used too few drops .. slightly wet that side of the hair and add product again with a few drops.
If you see the difference, and it is worse than the side without the drops, more frizz, sagged curls, coarse / rough hair then your curls do not need protein in your styling products for now.
Are your curls thinner at the bottom than at the halfway point? Then try to only add drops to the product that you will only use for these points.
Of course you are free to first add the drops to a protein-free shampoo / mask to see if this makes a difference for you. You can try to build it up slowly after that.
Give your curls a boost with, for example, a protein treatment, by adding drops to your mask. This can be a mask without protein, or a mask that does contain protein but it is not in the first 5 ingredients. TIP: Mix the drops through the mask in a separate bowl beforehand, as the shower can cause unpleasant / uncomfortable situations.
A moisture overload quickly? Then mix a few drops of protein drops with your moisture (protein-free) product to create more balance.
Do you have a moisture overload? Then these drops are perfect to get rid of your overload within 1 day. Add at least 30 drops to your wet hair, this is best mixed with a leave-in and then use water to spray your hair moist to distribute the product / drops well.
Ingredients:
Aqua, Hydrolyzed Wheat Protein, Hydrolyzed Soy Protein, Hydrolyzed Wheat Starch, Phenoxyethanol, Potassium Sorbate, Tocopherol, Helianthus Annuus Seed Oil, Ethylhexylglycerin
5
stars based on
2
reviews