I tested the shampoo, conditioner, 2in1 cream and the Spring Back Curls day 2 of the CG line from Pump Haircare.
My experience with Pump Haircare, the CG Line
This brand is new in the Netherlands. Unknown to many, that's why I started testing the products myself.
I brought this brand to the Netherlands because I read very positive reviews about this CG line, a kind of Holy Grail for many.
Day 1.
Washed my hair with Pump shampoo. Smell is not predominant, somewhat sweet. Three pumps rubbed in my hands and applied to my scalp, then massaged well on the scalp and finally the shampoo with my hands distributed to the ends. Rinsed out and what a surprise .. my hair was not a piece of string that I always have when I use shampoo. It was soft and could still pass through with my fingers ... really astonishment. That promises what ..
Then 3 pumps of conditioner spread over my hair, about 10 cm from my scalp. Combed hair and let it soak in. Smell was slightly stronger than the shampoo, nice and fresh. Throwed my head and hair down and rinsed with lukewarm water. Then squeeze out the water in the same position (Scrunchen)
Squeezed my hair with the microfiber towel so that most of the moisture was out.
The 2in1 cream, also 3 pumps, wonderful scent !. Divided in my hands and crunched in my hair again with my head forward.
Now I have to tell you that my hair on the washing day or co-wash day is always terrible. Slack, no to little definition and the curl is therefore not what it should be.
After I had put the cream in it felt very firm and had a lot of curl, yes that will .... I thought and that without gel ??
With the newly purchased new diffuser, purchased from Maress Hairstyling Groningen, a hair dryer for hairdressers and developed by a hairdresser .. jeetje what a good hair dryer. This blows not hard so you do not develop fluff. The buttons are on the outside and on the inside there is a button to add extra cold. It is very comfortable to hold. Tip if you are looking for a super hair dryer and do not want to spend as much as a Dyson, I can recommend this.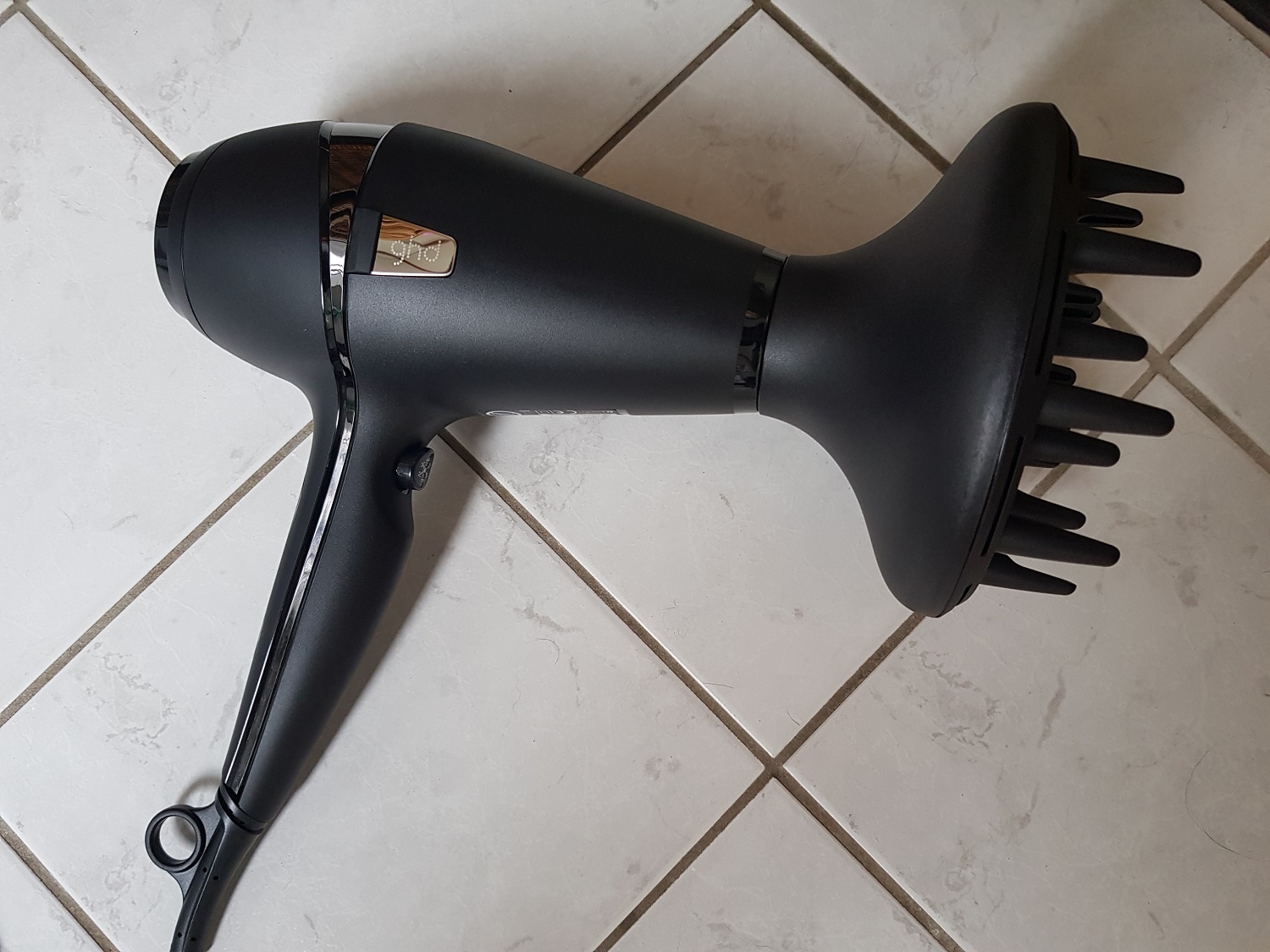 I blow-dried it up to 80%, and have to admit that I am really amazed, because I have never had such curls and firmness on the washing day.
Below the result, 100% dry (including a walk with the dogs)
It felt soft with some firmness. Curl is still beautiful. I'm very content :)
Tomorrow we will test the Spring Back Curls Day 2. I'm still a bit wary about my low elasticity .. I need protein because I paint my hair but I prefer to use it in products that I can rinse out again like shampoo, conditioner or mask.
DAY 2 and the Pump Spring Back Curls Day 2 used.
Slept with a pineapple with the PuffCuff (I can recommend you). Normally I always have to spray my hair wet in the morning and then scrunch in Gel. Now only use the Spring Back. Must say, he took away all the weird curls, which I otherwise spray with water. I injected a lot, on and under my curls and then scratched, and my hair has reacted well so far despite the fact that it contains protein.
CONCLUSION: This is certainly a high quality, definitely worth the investment (and no, I am not saying that because we are selling it) because in a year and a half I have not had any products that make my hair so soft and give so much volume and curl, after 1x use, that promises ... So I only used these products and secretly added no gel, wonderful but my hair is SUPER!
Day 3
My curls rebelled yesterday anyway, the fluff struck during the course of the day ... well my curls don't always like the protein that stays in my hair ...
Today my hair was sprayed wet with water and the 2in1 cream crunched in my hair. This cream does not give a cast but it does give volume / firmness. Great, I can continue the day with it.